Carson Villa (12112)
As part of a long-term effort to reduce basement backups and sewer overflows, MSD Project Clear is constructing approximately 3,272 feet of sewer in the Cities of Bel-Ridge and Bel-Nor, and in the Spanish Lake area. MSD Project Clear will increase the size of the stormwater sewer which will reduce basement backups and prevent sewer overflows in this area.
PROJECT UPDATE – June 8, 2021
This project is estimated to enter completion by the end of June 2021. If you have any questions, please reach out to the Project Manager below.
Project Map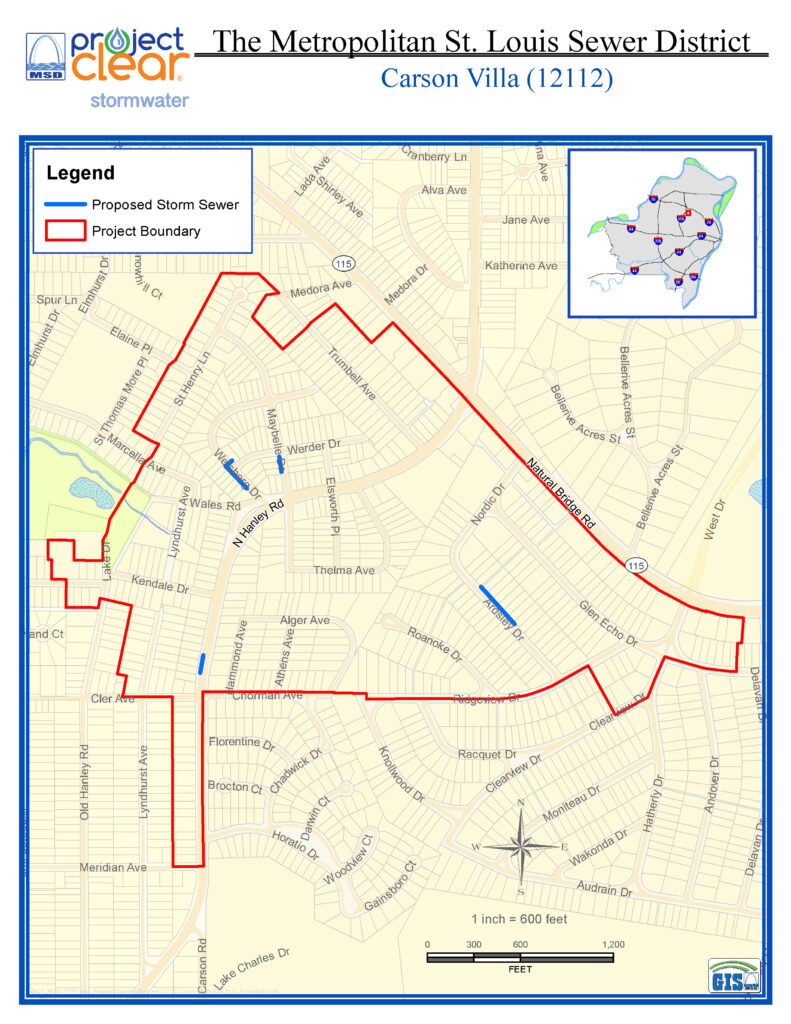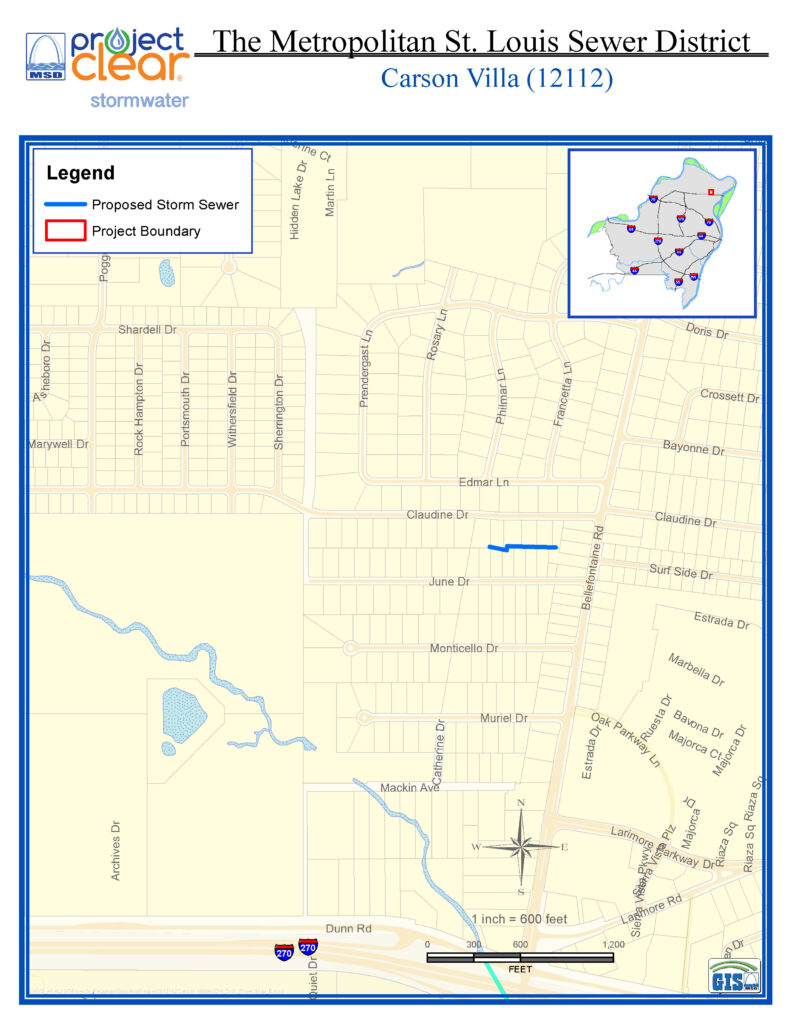 Why is this project being constructed?
MSD is investing $2.175 million into this neighborhood with this project to alleviate basement backups and clean up our local waterways.
How will it be built?
For the majority of sewer construction on Glen Echo and Clearview Drives, the pipe will be put in by digging through the surface of the road with depths varying from 3 to 10 feet. This process is known as "open-cut" construction.
How will this affect residents?
As with any major construction project, residents in this neighborhood can expect to see and hear heavy construction equipment.
Roads where open-cut construction will be used may be reduced to a single lane. Trenches installed in streets will be backfilled with rock. Normally trench backfill occurs soon after the pipe is installed so the traffic lane will be drivable shortly after the sewer is installed. Except for very narrow streets, one lane of traffic will be open except when the contractor is loading the excavated soil into trucks.
The contractor will follow all local ordinances and will notify all properties of any temporary access restrictions. In areas where open-cut construction will be used, there will be periods when driveways may be inaccessible. The contractor will give all property owners ample notification prior to any access restrictions.
When will construction take place?
This is the current tentative project schedule. This is subject to change based on a variety of factors including weather.
Project design completion date: May 11, 2018
Easement acquisition completion: October 15, 2019
Construction start: August, 2020
Estimated construction completion: August, 2021
What will it look like when it's done?
The streets in this area have a concrete base with asphalt on top. Our contract specifies that the concrete slabs that are disturbed will be fully replaced for full slabs joint to joint and asphalt overlaid. The project's restoration will meet all requirements of the Cities of Bel-Ridge and Bel-Nor.
FAQs
Documents
Stay Informed