Tunnels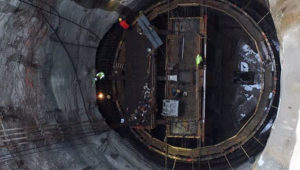 Tunnels are a crucial element in MSD's efforts to improve water quality in the St. Louis region. During heavy rain or snow melt, excess stormwater enters the wastewater system, exceeding the capacity of both the sewer system and our treatment plants. To prevent overflows, MSD is building both above-ground storage tanks and deep underground tunnels to both store and transport wastewater during heavy rain events until treatment facilities can handle the volume.
MSD Project Clear is a $6 billion, 28-year-long initiative to improve water quality and lessen wastewater concerns in the St. Louis region. Under this initiative, MSD is building eight underground tunnels and storage facilities to control sewer overflows and improve the overall system.
Using a specialized Tunnel Boring Machine (TBM), MSD's construction partners will dig tunnels into the limestone rock layer underlying the St. Louis area. Working up to 230 feet below the surface, the TBM bores the tunnel out of sight and sound of the public. On smaller projects, contractors will use controlled blasting to excavate the tunnel. During either type of construction, local residents and businesses will experience little if any disturbance to their daily routine. Once complete, the tunnels will be lined with sturdy material to keep groundwater out and wastewater in.
Tunnel construction takes place over several years in three phases:
Phase 1: Preliminary design and geotechnical investigation
Phase 2: Final design, construction bidding, and right-of-way acquisition
Phase 3: Tunnel construction
Our first project, the Lemay Redundant Force Main, was completed in 2014. Current projects include Deer Creek Sanitary Tunnel, Jefferson Barracks Tunnel, and Maline Creek Storage Facility.