Overview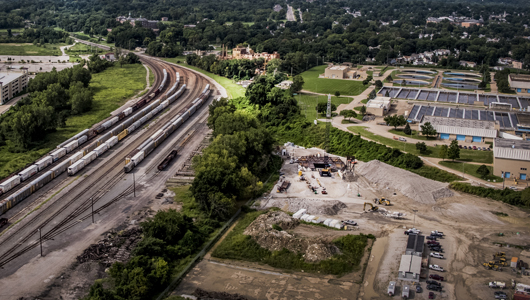 Designed to address sewer overflows in the Lemay/South St. Louis County area, the Jefferson Barracks Tunnel will extend from just south of I-255 at Koch Road to the Lemay Wastewater Treatment Plant at the confluence of the River des Peres and the Mississippi River.
Showing its age, the original system could no longer handle the demand during moderate to heavy rainfall. The new tunnel and additional construction will replace the old system, adding more capacity to collect, transport, and store wastewater, preventing overflows that threaten to pollute our waterways.
Stretching 17,800 feet (or 3.37 miles) parallel to the Mississippi River, the tunnel will be 7 feet in diameter and lined with fiberglass pressure pipe. Adding to the complexity of the project, the route runs through an area of river bluff karst, a porous limestone containing numerous caves and sinkholes caused by erosion. The tunnel had to be carefully aligned to avoid the difficulty and expense of building in such challenging conditions. Engineers determined the best solution was to bore below the limestone and karst and tunnel into rock at 150–230 feet below the surface.
Jefferson Barracks Tunnel Fast Facts
Length: approximately 3.37 miles
Construction Cost: $63.3 million
Anticipated Completion Date: Fall 2023
Contractor: SAK Construction