Overview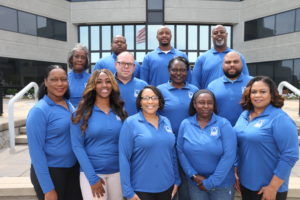 MSD knows the importance of embracing all aspects of Diversity across the entire District, particularly in recognizing small and diverse businesses as the foundation for building stronger communities in the St. Louis region. As MSD embarks upon historically significant public works projects within it's service area, the District intends to fully support efforts for inclusion and utilization of Minority and Women Business Enterprises.
To further enhance our concerted and coordinated efforts to promote Diversity, MSD has developed a comprehensive Workforce Program to support the inclusion of minority and women workers on MSD projects to drive economic growth in the Metropolitan St. Louis Region.
MSD has done an exceptional job with internally focused diversity efforts. In promoting efforts of collaboration to provide the necessary components to ensure level playing fields, MSD is committed to strategies which focus on the stimulation of economic growth in our communities, while increasing the vitality of under-utilized minorities and women in the St. Louis community. Below, you will find the link to view various programs and resources offered through MSD in support of our commitment to Diversity.
Contact Information