System Maintenance, Inspection, Rehabilitation, & Replacement
System maintenance and rehabilitation has been a part of MSD's operations for many years; MSD Project Clear continues this work on an accelerated schedule as part of other system improvements. System maintenance and rehabilitation is critical to MSD Project Clear's commitment to quality customer service and to MSD's mission statement "To protect the public's health, safety, and water environment by responsibly providing wastewater and stormwater management."
Aimed at preventing overflows and building backups, the sewer cleaning and rehabilitation program initially involves clearing the roots, grease buildup, and other blockages from our sewer lines, documenting their condition, and rehabilitating those with cracks, leaks, or other signs of structural instability. MSD Project Clear is in the fifth year of an ongoing program to clear roots, grease buildup, and other blockages from 17 million feet – or roughly half– of our region's sewer pipe. It takes three years to clean all these lines, after which the cycle begins again. Those pipes with cracks, leaks, or that show structural instability will be lined with cured-in-place pipe, which can be installed without digging up the street and restore the sewers to "like new" condition.
In FY2013, MSD expanded this program by adding manhole and force main inspection. The goal: to identify problems and prevent failures, focusing first on those most at risk of failure. This program exceeded all of its performance goals in FY2013, resulting in a 46% reduction in maintenance related basement backups and a 43% reduction in dry weather overflows compared to historical levels.
In their work, maintenance crews come across a wide variety of things causing blockages in the sewer pipes. Among them are roots, debris, and fats, oils, and grease. Check out this photograph of a root ball pulled from a sewer in April of 2013!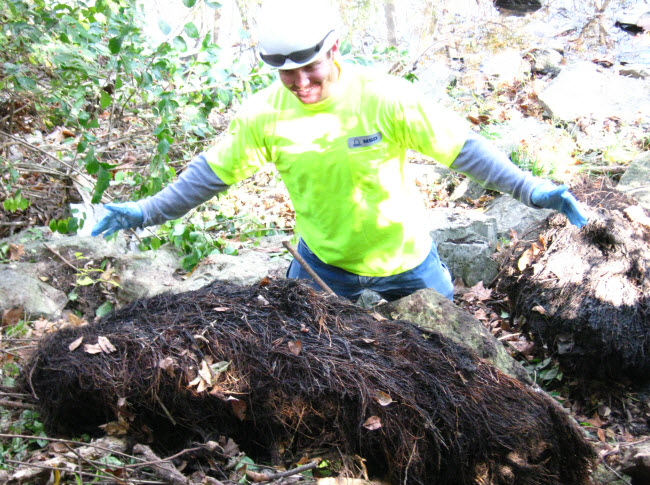 22 inches in diameter and 5 feet long, this root ball weighed between 150 lbs (dry) and 200 lbs (wet). A root of this size likely infiltrated a wastewater sewer pipe because most of the major trunk sewers are made of clay in 3 to 4 foot sections. Tree roots, seeking water, are strong enough to penetrate the joint connections and grow to this size within the pipe.