Creve Coeur Creek Sanitary Trunk Sewer Relief, Phase VI (11729)
The Creve Coeur Creek Trunk Sewer project will alleviate basement backups and sewer overflows along Creve Coeur Creek in southeast Chesterfield. Improvements include replacement of older smaller wastewater pipes with new larger pipes in order to increase the capacity of the wastewater system between Baxter and Schoettler (see map).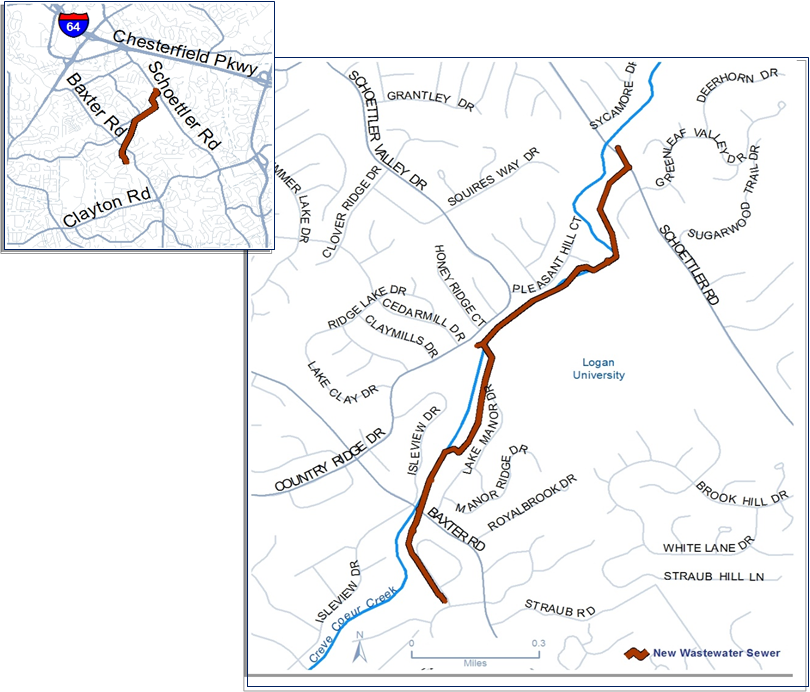 Project Facts
Construction of 7,750 feet of 12 to 24-inch new wastewater pipe
Removal of a constructed sewer outfall that currently discharges into a nearby stream during heavy rainfall
Investment = $9-10 million (estimate to be refined through further study)
How will this impact residents?
Impact on property owners during the design phase is minimal. Residents may notice field crews visiting the area as they compile information needed for design.
Greater impacts can be anticipated during construction, which is anticipated to begin in 2019. The project team is working closely with the City of Chesterfield to minimize impacts and keep residents informed.
Project Schedule
Complete project design: summer 2017
Easement acquisition: summer 2017 – summer 2018
Bid project: fall 2018
Start construction: early 2019
Construction timeframe: 18 months
Documents
Stay Informed