Rainscaping Small Grants Program
Program Updates
Thank you for your patience as we worked to open the round through the COVID-19 pandemic. Now ACCEPTING APPLICATIONS on a rolling basis! No specific application deadline. Read below for direction.
The below video series and landowner handbook will serve as your guide directing you step by step through the application process.
Should we have any updates or clarifications throughout the round, they will be posted here, at the top of the page.
MSD Project Clear & The Community
Project Clear is MSD's initiative to improve water quality and alleviate many wastewater concerns in the St. Louis region. MSD will invest billions of dollars over a generation for community rainscaping projects, system improvements, and an ambitious program of maintenance and repair. Rainscaping investments alone will total $120 million. Last season (2019-2020), over 100 applications were selected to receive grant funding, totaling more than $425,000.
Orientation Videos
This video will give background on what the viewer is watching in the recording and help familiarize them with the layout of the slides.
Learn a bit about MSD's goals, role in the community and why this and other programs are taking place.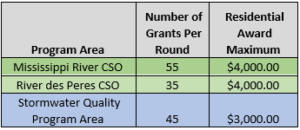 What is Rainscaping? Why are we using this strategy for Stormwater management?
5. Rainscaping Technical Background
Detailed feature by feature instruction.
Instruction on how to submit a proposal and what we are looking for.
A bit to think about when choosing plants for your project.
8. Examples from Previous Round
See some of the projects that have received funding in previous years. This may generate some ideas for you and give you a sense of what we are looking for!
After reviewing all videos, please complete the following survey to ensure your participation in the Orientation has been recorded.
PROGRAM CONTACT
(314) 577-0202 | Rainscaping@mobot.org
HELPFUL DOCUMENTS
Please mail applications to:
MSD Project Clear Rainscaping Small Grants
c/o Missouri Botanical Garden – Sustainability Division
EarthWays Center – CBEC-West
4651 Shaw Blvd.
St. Louis, MO 63110
Be sure to make a copy for yourself, incase anything is lost in the mail and consider saving electronically.