Overview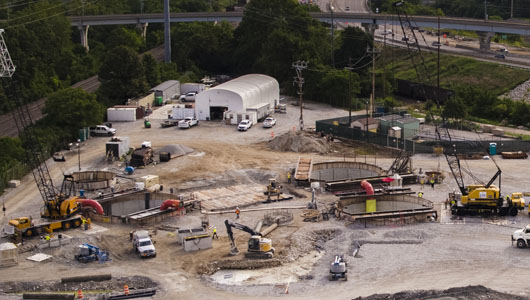 Extending approximately 3.9 miles from Clayton Road to Interstate 44, the new tunnel will collect and temporarily store peak wastewater overflows along the Deer Creek sewer system. Historically, heavy rains would overcharge the existing system, leading to basement backups and sewer overflows. Slated for completion in late 2022, the new tunnel will provide relief to a number of communities, including Clayton, Richmond Heights, Brentwood, Maplewood, Webster Groves, and Shrewsbury.
During Phase I of the project, MSD considered a number of construction options, including pumping excess flow to above-ground storage tank farms or building a network of open-cut sanitary sewers. Given the heavily developed nature of the area and the number of major roadways involved, MSD determined that a deep storage tunnel provided the least disruptive and most cost-effective solution.
Using an enormous Tunnel Boring Machine (TBM) dubbed "Mrs. Nancy," contractors bored the tunnel through deep rock 150–250 feet below ground surface. The inside will be finished with a concrete liner, leaving a diameter of approximately 19 feet. The construction shaft, which will later serve as part of the pump station that drains the tunnel, is located at the downstream end of the tunnel near I-44 and Shrewsbury Avenue.
Deer Creek Sanitary Tunnel Fast Facts
Length: approximately 3.9 miles
Construction Cost: $150 million
Anticipated Completion Date: Fall 2022
Adjacent Communities: Clayton, Richmond Heights, Brentwood, Maplewood, Webster Groves, Shrewsbury
Design Engineer: Parsons
Contractor: SAK Construction
Construction Manager: Black & Veatch