East Watson Sanitary Relief (12152)
As part of a long-term effort to reduce basement backups and sewer overflows, MSD Project Clear is constructing approximately 4,580 feet of sewer in the Citys of Sunset Hills and Crestwood. The East Watson Sanitary Relief project will increase the size of the wastewater sewer which will reduce basement backups and prevent sewer overflows in this area. Construction is scheduled to begin in Spring of 2021 with anticipated completion in the Fall of 2022.
About the Project
Public Meeting - May 11, 2021
This project was delayed as MSD's contractor wated for another utility to move assets in direct conflict with the construction path. The project schedule discussed in the below recording is no longer accurate. Please find the most up-to-date project schedule below under "When will construction take place?"
Project Map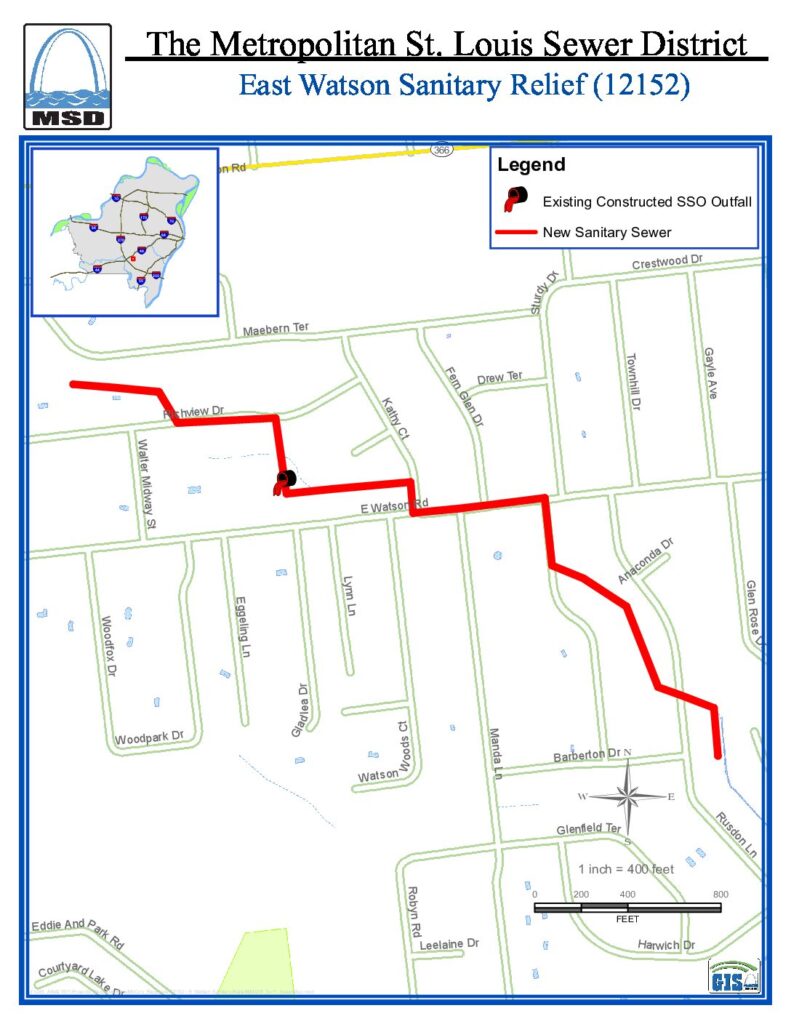 What work is being done?
MSD Project Clear is constructing approximately 4,580 feet of wastewater pipe and new structures
The pipe size will increase to 8 to 24-inches in diameter allowing a larger amount of wastewater to flow through the system.
This project will eliminate one constructed overflow point where untreated wastewater can spill into local waterways.
Why is this project being constructed?
MSD is investing $1.54 million into the Cities of Crestwood and Sunset Hills with this project to alleviate basement backups and clean up our local waterways.
How will it be built?
MSD's contractor, Above and Below Contracting, will install the pipe by digging through the surface, a process known as "open-cut." The contractor will dig a trench several feet into the ground, remove the old sewer pipe, and replace it with a newer, larger pipe. They will work section-by-section, and will fill completed sections with gravel or cover with steel plates to reduce traffic disruptions.
How will this affect residents?
With any construction, residents can expect to see and hear heavy equipment during the sewer excavation process. The pictures above depict what a neighborhood will look like before, during, and after a typical project.
Because some of the construction takes place in the roadway, customers may experience lane restrictions or temporary road closures during working hours. MSD will have a traffic mitigation plan to ensure residents have access to homes and businesses.
Some residents may experience temporary access restrictions to their driveways. The contractor will give all property owners ample notification prior to access restrictions and will ensure access during non-working hours.
At least one MSD Inspector will be on-site part of the day for every day the contractor is working.
When will construction take place?
Construction start: Mid-October, 2022
Construction duration: approximately 12-18 months
Previous milestones:
First neighborhood public meeting: April 11, 2019
What will it look like when it's done?
After the contractor installs all new pipes, they will restore the construction site according to all local and District requirements. Properties with temporary construction easements will be restored per the signed easement agreements. Properties with existing easements will be restored to a clean condition such as sodding disturbed areas and replacing disturbed pavement.
FAQs