Lindley Drive Phase 1 (12329)
As part of a long-term effort to reduce basement backups and sewer overflows, MSD Project Clear is replacing approximately 6,200 feet of sewer in the City of Olivette. The Lindley Drive Sanitary Relief project will increase the size of the wastewater sewer which will reduce basement backups and prevent sewer overflows in this area.
Construction began in October of 2020 and was completed in Fall of 2022.
Public Meeting - September 24, 2020
About the Project
Project Map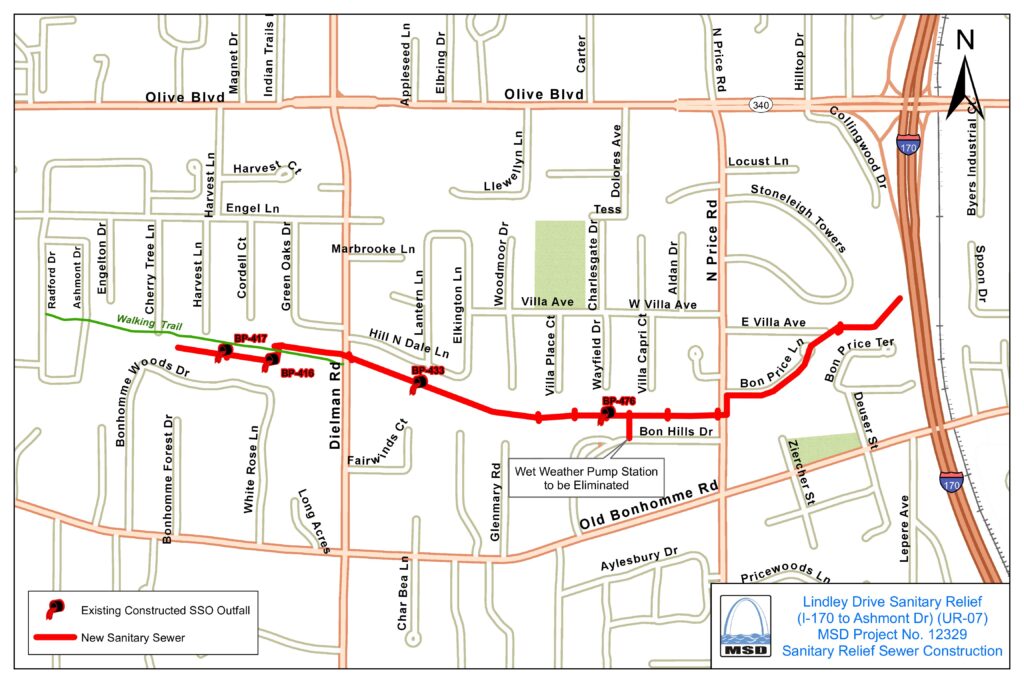 What work is being done?
MSD Project Clear is replacing approximately 6,242 feet of wastewater pipe.
The pipe size will increase to 8 to 21-inches in diameter allowing a larger amount of wastewater to flow through the system.
This project will eliminate four constructed overflow points where untreated wastewater can spill into local waterways.
This project will remove one pump station and enable the sewer to flow using gravity rather than a pressurized pipe. This will result in more reliable sewer service for customers in this area.
Why is this project being constructed?
MSD is investing $3.65 million into this neighborhood with this project to alleviate basement backups and clean up our local waterways.
How will it be built?
The majority of this project will take place on private properties. The construction corridor will go through back yards of properties on Stoneleigh Towers, Bon Hills Drive, Hill N Dale Lane, Green Oaks Drive, and Bonhomme Woods Drive. MSD's contractor will install the pipe by digging through the surface, in a process known as "open-cut".
To reduce traffic disruptions on other streets, the contractor will tunnel under N. Price Road and Dielman Road.
How will this affect residents?
As with any major construction project, residents in this neighborhood can expect to see heavy construction equipment.
While most of the construction will take place on private properties, residents may experience some disruption to traffic during construction on Bon Price Lane. One lane of traffic will remain open at all times.
When will construction take place?
Construction timeline:
Construction start: October 2020
Construction completion:Fall 2022
Previous milestones:
Second neighborhood public meeting: September 24, 2020
Project design completed: April 2020
Easement acquisition completed: March 2020
First neighborhood public meeting: November 7, 2018
Bon Hills Subdivision meeting: April 26, 2018
What will it look like when it's done?
After all new sewer pipes are installed, the contractor will restore the construction site according to all District and local requirements. This could include sodding any disturbed areas, replacing disturbed pavement, reinstalling fences, etc.
FAQs