Newport Landing Pump Station Elimination (12357)
As part of a long-term effort to reduce basement backups and sewer overflows, MSD Project Clear is designing a project to remove a pump station and improve wastewater service and reduced basement backups for customers in St. Louis County west of Hawkins Road and south of Summerpoint Lane. Woods has been selected as the Design Consultant for this project.
This project is estimated to begin construction in late 2022 or early 2023.
Project Map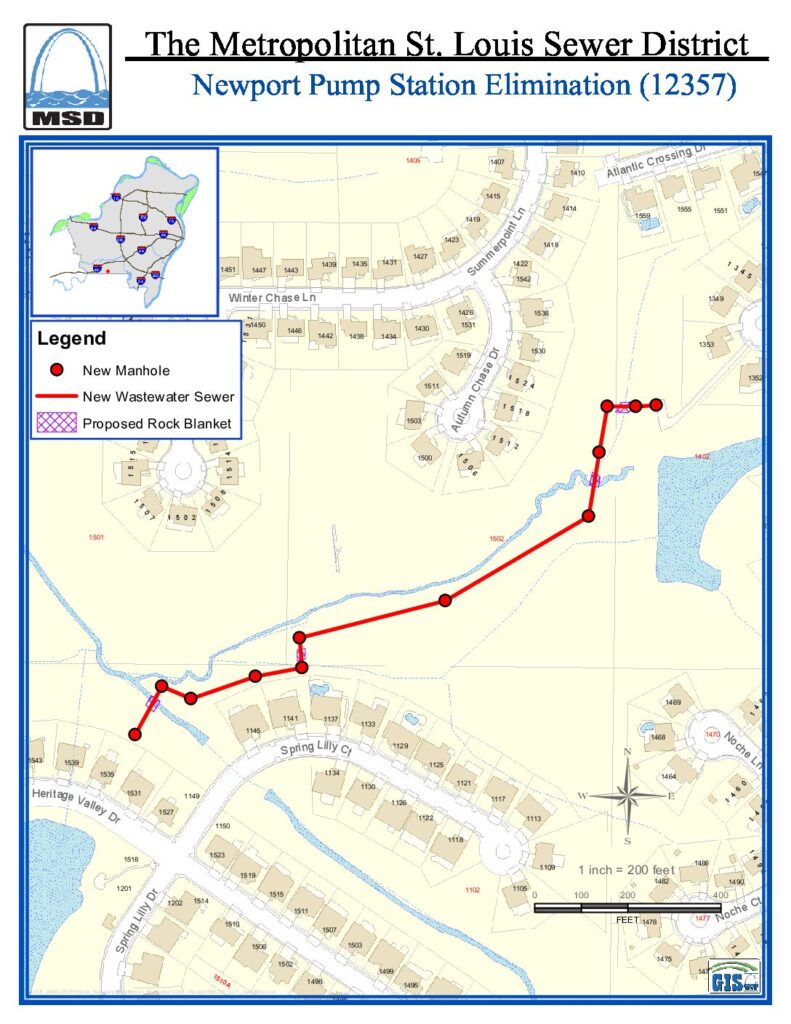 What is the goal of this project?
MSD Project Clear is investing approximately $553,000 to improve the wastewater service in the St. Louis County. The goal of this project is to remove one pump station and enable the sewer to flow using gravity rather than a pressurized pipe. This will result in more reliable sewer service for customers in this area.
Project Facts
Construction is estimated to begin in late 2022 or early 2023.
MSD Project Clear will construct approximately 1,500 feet of 8″ wastewater pipe
MSD Project Clear will eliminate approximately 2,100 feet of 4″ forcemain pipe
MSD Project Clear will remove the Newport Landing Pump Station and enable the sewer to flow using gravity rather than a pressurized pipe. This will result in more reliable sewer service and reduced basement backups for customers in this area.
What can residents expect?
Though construction for this project is not estimated to begin until late 2022 or early 2023, it is important to be prepared for what to expect. By the Spring of 2022, MSD will contact residents from whom easements are required to construct the project. MSD will not contact residents who have existing easements on their property.
Type of Construction:
While the exact methods of construction will be determined as the project moves towards the Construction phase, just like with any type of construction, residents can expect to see and hear heavy equipment during the sewer excavation process. This project will be constructed by a method known as "open-cut construction". This means that crews will dig through the surface of the ground to excavate and install pipe.
Traffic Impact:
The majority of construction will take place in the common ground of the subdivisions and will have minimal affect on traffic. However, residents may experience some traffic restrictions near the two access points located at the cul-de-sac on Point Mariner Drive and at the stream crossing on Spring Lilly Court.
Residents may experience temporary reduced access to properties during active construction hours. The Contractor will notify residents prior to any access restrictions and will work to minimize these instances.
Restoration:
After all new sewer pipes are installed, the Contractor will restore the construction site according to all District and local requirements. This could include sodding any disturbed areas, replacing disturbed pavement, reinstalling fences, etc.
What is the timeline?
This is the current tentative project schedule. This is subject to change based on a variety of factors including weather.
Project design completion: June 2021
Easement acquisition completion: Spring 2022
Estimated construction start: Late 2022 or Early 2023
Estimated project duration: 18-24 months
FAQs
MSD does not anticipate sewer service or other utility services being disrupted during this project. We will work with Missouri One Call to locate utilities before beginning construction. Occasionally, the contractor may run into utilities that were not located by Missouri One Call which could result in temporary utility disruptions. If this happens, MSD will work with the utility to restore service as quickly as possible
Some property owners may experience driveway access restrictions for a short period of time. The contractor will notify property owners in advance of any temporary access restrictions to allow them time to move their vehicles. The contractor will also fill trenches with gravel during non-working hours so property owners can use their driveways during those times.