Schuetz Road Sanitary Relief (#10161)
As part of a long-term effort to reduce basement backups, MSD Project Clear is constructing a project to install approximately 1,034 feet of wastewater sewer in Unincorporated St. Louis County, South of Schuetz Road and West of Lindbergh Boulevard.
The Contractor selected for this project is Aztec Construction Specialties, LLC. Construction is tentatively scheduled to begin in Summer 2022.
Construction on this project is currently delayed as the contractor is experiencing financial difficulties and is unable to continue the work at this time. MSD is working with the contractor and their surety to ensure construction resumes as quickly as possible. We will update this project page as soon as we have more details.
Construction Phase Neighborhood Meeting
Project Map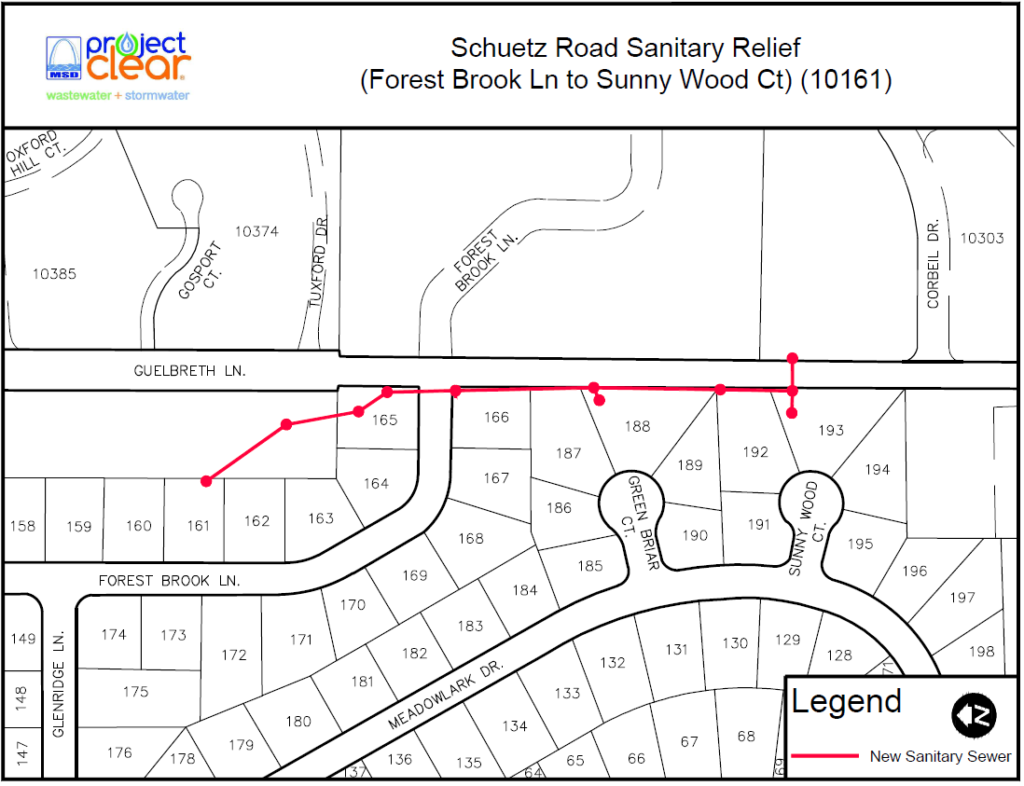 What is the goal of this project?
MSD Project Clear is investing $750,000 to install newer, bigger wastewater pipe in this neighborhood to increase the capacity the sewer system can hold. This will reduce instances where the system becomes overcharged and ultimately reduce basement backups and sewer overflows.
What work is being done?
MSD Project Clear will install approximately 1,032 feet of wastewater sewer
The pipe size will range between 8 to 15 inches in diameter
Tunneling under Guelbreth Lane
How will it be built?
MSD's Contractor, Aztec Construction Specialites, will install the pipe by digging through the surface, a process known as "open-cut." The contractor will dig a trench several feet into the ground and install new wastewater sewer. The majority of this project will be constructed using the open-cut method.
For a small portion of the project under Guelbreth Lane, the pipe will be installed underground through a process called "tunneling". Tunneling is being used for this part of the project to prevent traffic disruption at the surface.
What can residents expect?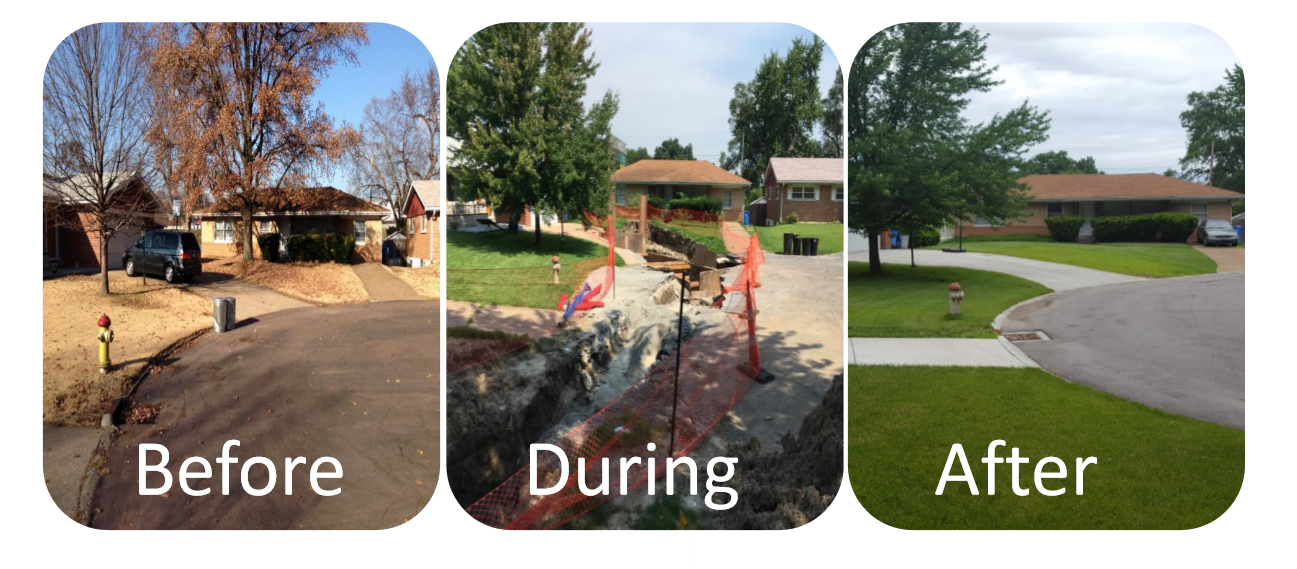 With any type of construction, residents can expect to see and hear heavy equipment during the sewer excavation process. The pictures above depict what a neighborhood will look like before, during, and after a typical "open-cut" project.
MSD Project Clear expects minimal traffic disruption but some street and lane closures may be required. MSD's Contractor will inform affected residents prior to starting construction. One lane of traffic will always be maintained to allow residents to enter and exit.
MSD expects temporary access issues to properties along Forest Brook Lane during construction hours as well. The Contractor will work to restore driveway access after construction hours every evening, or when notified by the homeowner within a reasonable amount of time.
Residents and/or property owners along the construction path should move small portable items outside of the easements and inform MSD of dog fences, sprinklers, and other underground assets.
After all new sewer pipes are installed, the contractor will restore the construction site according to all local and District requirements. This could include sodding any disturbed areas, replacing disturbed pavement, reinstalling fences, etc. Restoration is weather dependent.
At least one MSD Inspector will be on-site part of the day for every day the contractor is working.
What is the timeline?
Construction start: Summer 2022
Construction end: Spring 2023
Previous milestones:
Project design completion: Fall 2020
Easement acquisition completion: Fall 2021
FAQs
MSD does not anticipate sewer service or other utility services being disrupted during this project. We will work with Missouri One Call to locate utilities before beginning construction. Occasionally, the contractor may run into utilities that were not located by Missouri One Call which could result in temporary utility disruptions. If this happens, MSD will work with the utility to restore service as quickly as possible.
Yes, MSD does anticipate that construction will temporarily affect access to driveways and properties along Forest Brook Lane as a part of this project. The Contractor will work to restore access to affected driveways/properties each evening, by either backfilling with gravel or plating over the trench. Residents with specific concerns are encouraged to reach out prior to construction so that the Contractor can work with you as much as possible.
Trees may need to be removed to construct parts of this project. If there are good options to avoid removing trees, MSD will make every attempt to do that. Property owners with trees that will need to be removed that are not located in already existing easements will have been compensated for the removal through the easement acquisition process.