Watkins-Spanish Sanitary Relief (12271)
As part of a long-term effort to reduce basement backups and overcharged sewers, MSD Project Clear is replacing undersized wastewater sewer in the Unincorporated St. Louis County in the Spanish Lake area.
MSD Project Clear will increase the size of the sewer system in this neighborhood. This will increase the capacity the system can handle and reduce basement backups.
This project is currently in the Design phase. The Consultant selected for this project is Intuition & Logic, Inc. The Construction phase will begin after a Contractor is selected. Currently, construction is expected to begin in Summer 2023.
About the Project
Design Public Meeting
Project Map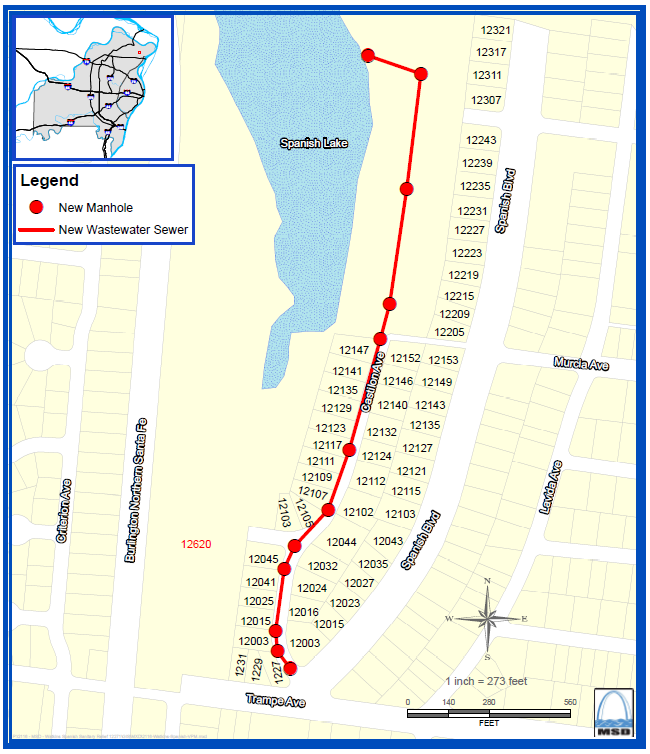 What work is being done?
MSD Project Clear will remove approximately 2,335 feet of existing 18-inch to 24-inch diameter sewers and replace it with approximately 2,305 feet of new 27-inch diameter sewer
The pipe size will increase allowing a larger amount of wastewater to flow through the system
Why is MSD designing this project?
MSD Project Clear is investing approximately $2.3 million into your neighborhood to alleviate basement backups. As a part of their evaluation, our team of Engineers reviewed customer complaints and determined that the existing wastewater sewers servicing the area are undersized and become overcharged when it rains. When the system becomes overcharged, the wastewater finds its way out into the basements of properties within this neighborhood.
This project will increase the capacity the sewer system in your neighborhood can handle and ultimately reduce the likelihood that basement backups will occur.
How will it be built?
This project will be constructed by digging through the surface, a process known as "open-cut." The contractor will dig a trench several feet into the ground to install or replace the sewer pipe.
What can residents expect?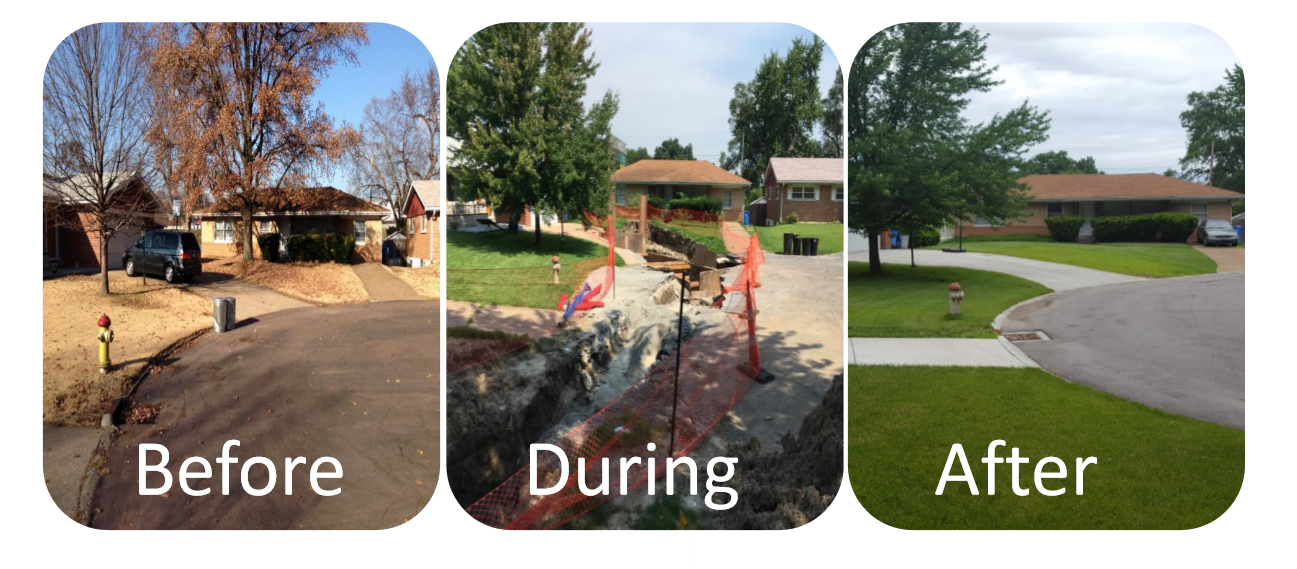 With any type of construction, residents can expect to see and hear heavy equipment during the sewer excavation process. The pictures above depict what a neighborhood will look like before, during, and after a typical open-cut project.
TRAFFIC: MSD Project Clear does expect traffic disruptions as a part of this project. The project will result in various temporary traffic impacts along Castilon Avenue. Temporary lane closures will also be required. The Contractor will be required to maintain one lane of access so residents, emergency vehicles and others can enter and exit.
PROPERTY ACCESS: Some residents may experience temporary access restrictions to their driveways. Once the project moves to the Construction phase and a Contractor is selected, they will give property owners ample notification prior to restricting access. The Contractor will also work to restore access during non-working hours.
RESTORATION: After all new sewer pipes are installed, the contractor will restore the construction site according to all local and District requirements. This could include sodding any disturbed areas, replacing disturbed pavement, reinstalling fences, etc.
At least one MSD Inspector will be on-site part of the day for every day the Contractor is working.
What is the timeline?
This is the current tentative project schedule. This is subject to change based on a variety of factors, including weather.
Design phase completion: Winter 2022
Easement acquisition: Winter 2022 to Winter 2023
Estimated construction start date: Late Summer 2024*
Estimated construction duration: Approximately 18 months
*Anticipated construction start date is subject to change. MSD will notify residents before beginning construction.
FAQs
MSD does not anticipate sewer service or other utility services being disrupted during this project. We will work with Missouri One Call to locate utilities before beginning construction. Occasionally, the contractor may run into utilities that were not located by Missouri One Call which could result in temporary utility disruptions. If this happens, MSD will work with the utility to restore service as quickly as possible.
Some property owners may experience driveway access restrictions for a short period of time. After they are selected, the Contractor will notify property owners in advance of any temporary access restrictions to allow them time to move their vehicles. The Contractor will also work to restore access during non-working hours so property owners can use their driveways during those times.
Trees may need to be removed to construct parts of this project. If there are good options to avoid removing trees, MSD will make every attempt to do that. Property owners with trees that will need to be removed that are not located in already existing easements will have been compensated for the removal through the easement acquisition process.