MSD Project Clear is constructing a project to prevent creek bank erosion and to improve water flow by stabilizing approximately 600 feet of a natural creek and installing approximately 8 feet of storm sewer pipe in North St. Louis County.
Public Meeting - December 21, 2021
Project Map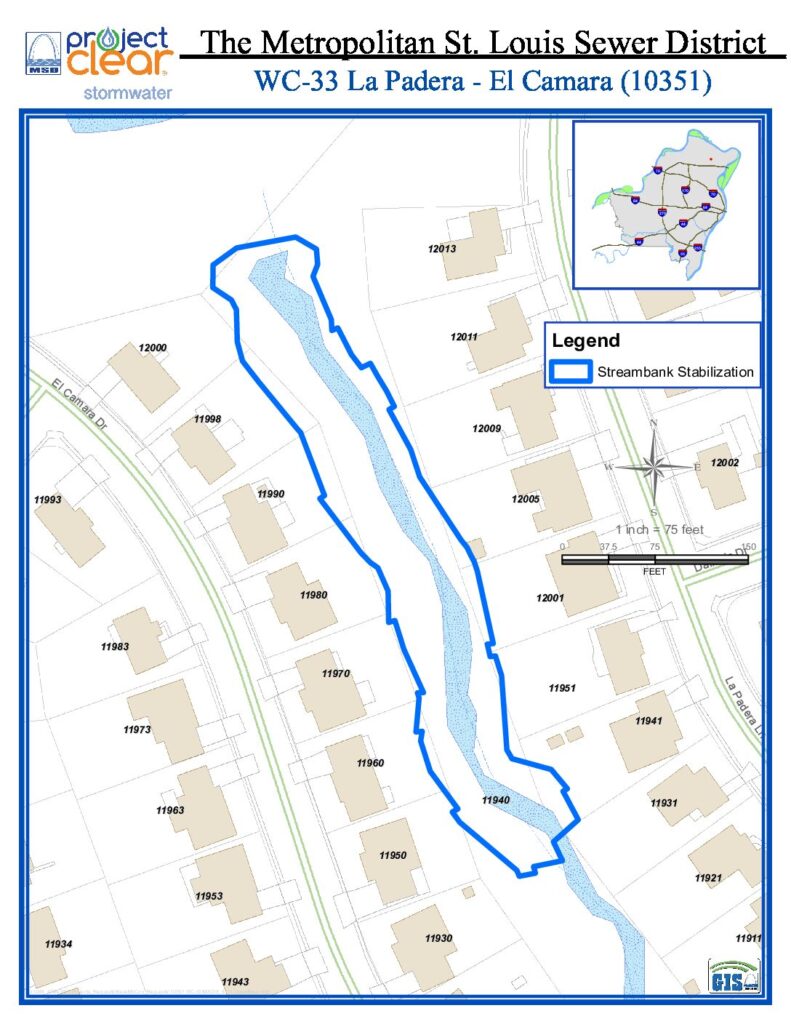 What is the goal of this project?
MSD Project Clear is investing $624,500 to design and construct this project to prevent creek bank erosion by installing rock stabilization.
What work is being done?
MSD Project Clear will stabilize approximately 600 feet of natural creek bank using rock lining.
MSD Project Clear is also installing a small 8-foot reach of 21″ diameter stormwater sewer.
Why is this project being constructed?
The creek in this area is experiencing erosion. This project will stabilize the creek bank to improve water flow and protect some of the nearby private properties from creek erosion.
How will it be built?
MSD's contractor, Fred M. Luth, will excavate and grade the area around the creek, install rock lining, and restore any disrupted surfaces.
What can residents expect?
With any type of construction, residents can expect to see and hear heavy equipment during the sewer excavation process.
Because this project is primarily located in yards and on private property, we do not anticipate any significant traffic or property access disruptions, however, drivers may have temporary minor traffic disruptions due to construction equipment.
Residents and/or property owners along the construction path should move small portable items outside of the easements and inform MSD of dog fences, sprinklers, and other underground assets.
After all new sewer pipes are installed, the contractor will restore the construction site according to all local and District requirements. This could include sodding any disturbed areas, replacing disturbed pavement, reinstalling fences, etc.
At least one MSD Inspector will be on-site part of the day for every day the contractor is working.
What is the timeline?
Construction start: Early 2022
Construction end: Spring/Summer 2022
Previous milestones:
Project design completion: February 2020
Easement acquisition completion: June 2021
FAQs
MSD does not anticipate sewer service or other utility services being disrupted during this project. We will work with Missouri One Call to locate utilities before beginning construction. Occasionally, the contractor may run into utilities that were not located by Missouri One Call which could result in temporary utility disruptions. If this happens, MSD will work with the utility to restore service as quickly as possible.
As most of the work will be within backyards and private property, MSD does not anticipate any access restrictions to driveways.
Trees may need to be removed to construct parts of this project. If there are good options to avoid removing trees, MSD will make every attempt to do that. Property owners with trees that will need to be removed that are not located in already existing easements will have been compensated for the removal through the easement acquisition process.