Canterbury and Roland Sanitary Relief (12110)
As part of a long-term effort to reduce basement backups, overcharged sewers, and to prevent road and structure flooding, MSD Project Clear is constructing a project to replace approximately 1,700 feet of wastewater sewer and installing approximately 822 feet of channel improvements in the Cities of Pasadena Hills and Northwoods. The project is estimated to begin construction in the end of 2021 or early 2022.
The Contractor on this project is Aztec Construction Specialties, LLC.
Construction on this project is currently delayed as the contractor is experiencing financial difficulties and is unable to continue the work at this time. MSD is working with the contractor and their surety to ensure construction resumes as quickly as possible. We will update this project page as soon as we have more details.
Project Map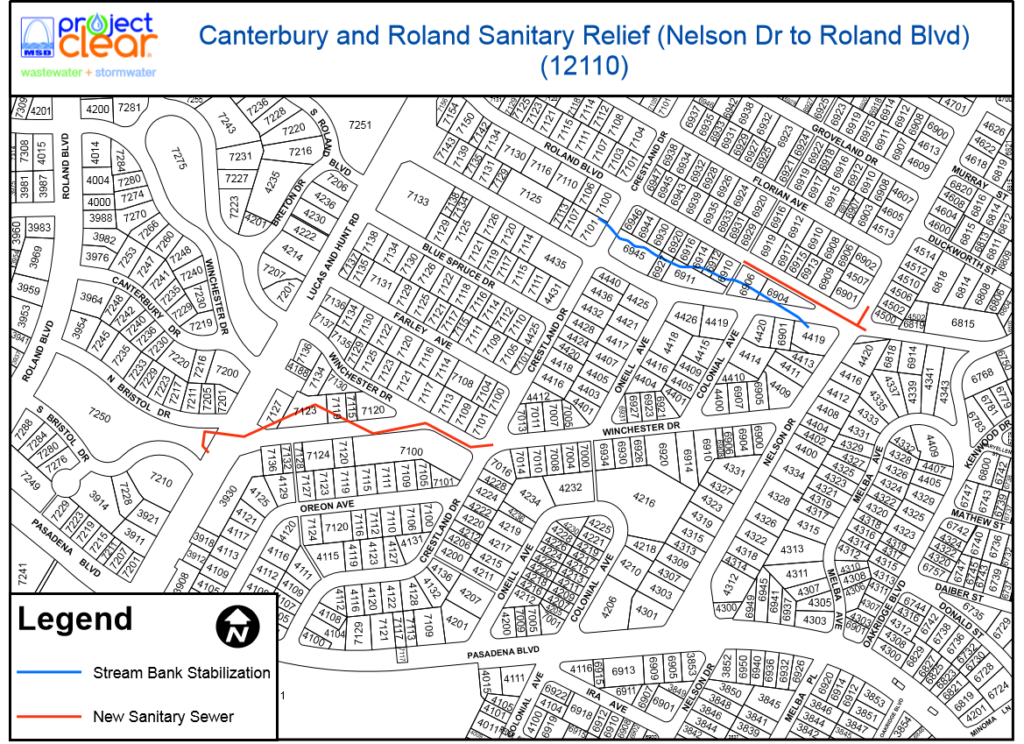 Why is this project being constructed?
As part of their evaluation, our team of engineers determined that the sewer in this neighborhood is undersized and in need of repairs. During intense rainfall, the sewers become overloaded leading to basement backups. Additionally, MSD staff found that creek erosion was endangering private property.
Because of this, MSD Project Clear is investing almost $1.2 million to construct this project to increase the size and depth of the existing sewer and provide channel stabilization.
Project Facts
Construction is estimated to begin in late 2021 or early 2022.
MSD Project Clear will replace approximately 1,700 feet of wastewater pipe
The pipe size will increase to between 8 and 15-inches in diameter allowing a larger amount of wastewater to flow through the system.
Approximately 822 feet of channel improvements like a modular block wall, rock blanket, and native plantings will be made.
Construction Townhall Meeting
How will it be built?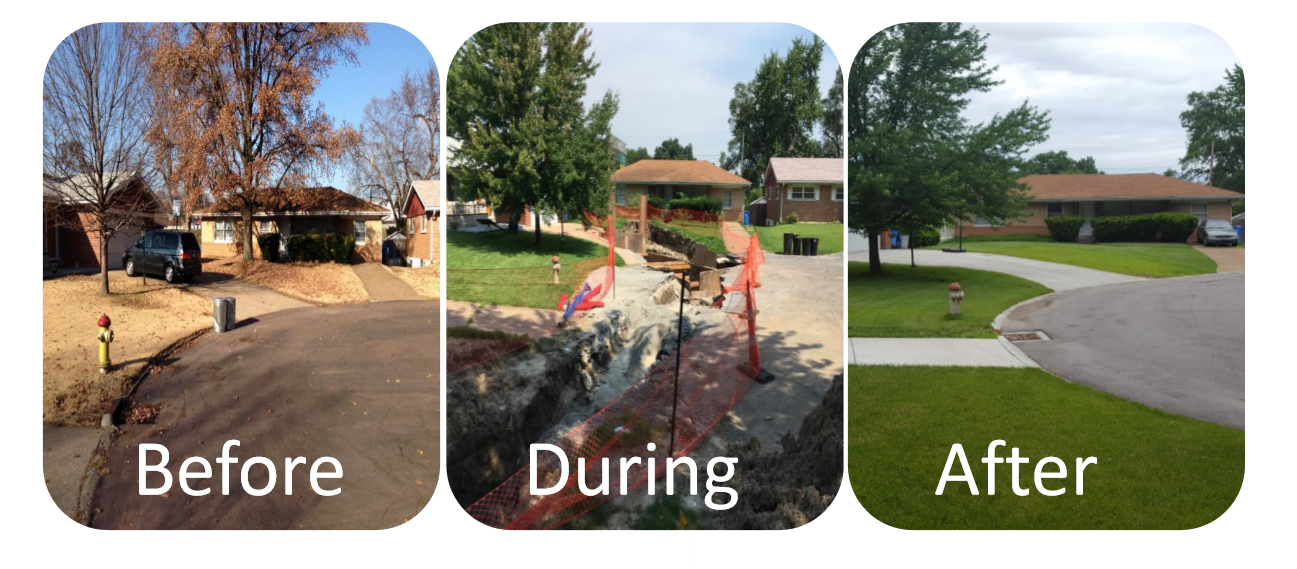 Residents whose property will need to be accessed to construct the project were contacted by December 2020 to obtain the necessary easements. If you have questions how/if your property will be accessed, please contact the Project Manager.
The majority of the wastewater sewer will be installed by digging through the surface, in a process known as "open-cut" construction. Open-cut construction will take place on Roland Boulevard, Nelson Drive, Winchester Drive, and Bristol Drive. The pictures above depict what a neighborhood will look like before, during, and after a typical open-cut project.
There is a smaller portion of the project where the pipe will be installed by tunneling underneath Lucas and Hunt Road. Tunneling is being used in this area to minimize disruption to the surface on a high traffic roadway.
With any type of construction, residents can expect to see and hear heavy equipment during the sewer excavation process. This includes the channel stabilization work in the creek where materials will be transported in and out of the project site.
After all new sewer pipes are installed, the contractor will restore the construction site according to all local and District requirements. This could include sodding any disturbed areas, replacing disturbed pavement, reinstalling fences, etc.
At least one MSD Inspector will be on site part of the day for every day the contractor is working.
How will this affect residents?
With any type of construction, residents can expect to see and hear heavy equipment during the sewer excavation process. MSD Project Clear does expect lane and road closures as a part of this project. Traffic impacts will be experienced on Roland and Nelson Boulevards and Bristol and Winchester Drives. The contractor will work to leave one lane of traffic open at all times for emergency vehicles.
Access issues into driveways are also expected to be impacted as a part of this project. The contractor will work with homeowners to provide access when needed. If you have specific concerns about access issues, please contact the contractor to make sure they are aware.
Some temporary utility disruptions might be experienced throughout this project, like when moving utility poles. These disruptions will be temporary (a few hours at most) and the contractor will work to minimize any of these instances.
What is the timeline?
This is the current tentative project schedule. This is subject to change based on a variety of factors including weather.
Complete Project Design: April 2020
Easement acquisition completion: December 2020
Estimated construction start: Late 2021/Early 2022
Estimated project duration: Winter 2022
FAQs
FAQs section will be updated as questions are sent in to the Project Manager.
Documents
Stay Informed
Andy Day, MSD Project Manager
aday@stlmsd.com
314-768-2799
(Please mention the Project Number: 12110)