Park Drive Phase 1 (12163)
As part of a long-term effort to reduce basement backups and sewer overflows, MSD Project Clear is replacing approximately 2,300 feet of sewer in the City of Pagedale near St. Vincent County Park. The Park Drive Sanitary Relief project includes two phases, one that runs from the Park down St. Charles Rock Road to 70th Street and a second that will be almost entirely within St. Vincent County Park. This webpage is specifically dedicated to providing information on the first phase of the project.
Through Phase 1 of this project, MSD Project Clear will increase the size of the wastewater sewer which will reduce basement backups and prevent sewer overflows in this area. Construction is scheduled to begin in July of 2020 with an anticipated completion in Fall of 2021.
Phase 2 will be constructed after the majority of the work done will be located within St. Vincent Park. MSD will provide additional information on phase 2 when design is finalized.
Project Map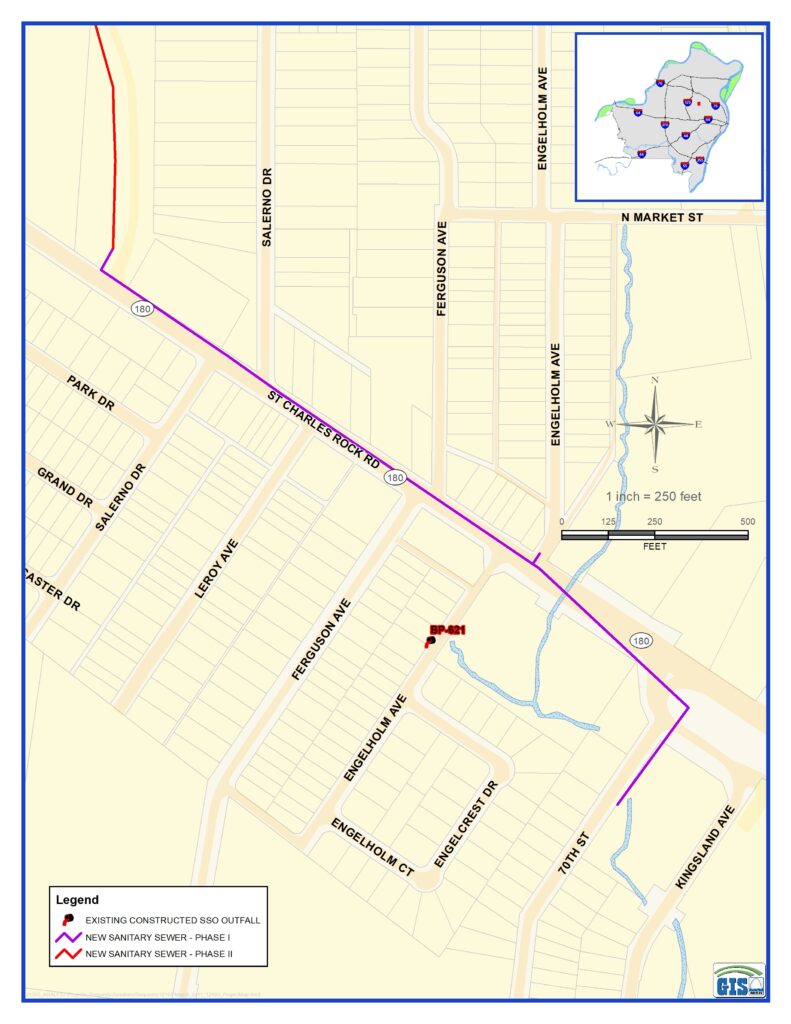 Public Meeting - July 8, 2020
UPDATE: At the time of this meeting, the anticipated completion date was April 15, 2021. The completion date for this project has since been extended to Fall 2021.
What work is being done?
MSD Project Clear is replacing approximately 2,373 feet of wastewater pipe.
The pipe size will increase to 15 to 24-inches in diameter allowing a larger amount of wastewater to flow through the system.
Why is this project being constructed?
MSD is investing $4.22 million into this neighborhood with this project to alleviate basement backups and clean up our local waterways.
How will it be built?
The majority of this project will be constructed using tunneling methods. This means that the work will take place approximately 24 feet underground. Most of the tunneling will occur mainly under St. Charles Rock Road near St. Vincent County Park. Tunneling is the best method to construct this project so that traffic is not disturbed by open excavations. Additionally, tunneling will allow for a water main in the same area to be kept in place.
For the remaining sewer construction (approximately 135 feet total), the pipe will be put in by digging through the surface of the road, in a process known as "open-cut".
How will this affect residents?
As with any major construction project, residents in this neighborhood can expect to see heavy construction equipment.
MSD Project Clear expects lane restrictions on St. Charles Rock Road leading into St. Vincent park for several months. Traffic will be restricted to one lane each direction in three phases as the contractor moves down the Rock Road. A worker will be assigned to direct traffic. MSD does not anticipate any access issues into residential neighborhoods and minimal access issues for commercial businesses along St. Charles Rock Road.
When will construction take place?
This is the current tentative project schedule. This is subject to change based on a variety of factors including weather.
Construction start: July, 2020
Estimated construction completion: Fall 2021
What will it look like when it's done?
After construction is completed, the contractor will restore any areas that were disturbed by construction to its previous or better condition. On St. Charles Rock Road, the contractor will replace any disturbed concrete slabs in full, and on 70th Street, the contractor will replace any disturbed asphalt. The project's restoration will meet all requirements of the City of Pagedale.
FAQs
Q1: Will there be any work done in St. Vincent Park?
A1: During this phase of the project, only a minimal amount of work will be done right at the entrance of the park. Phase 2 of the project (not set to begin construction until at least late 2021) will take place mainly within St. Vincent Park.
Q2: Has there been any coordination with the cemetery located nearby on St. Charles Rock Rd?
A2: The Project Manager and the Contractor will be in contact with funeral directors and other relevant contacts in order to ensure processions can drive through the construction area unimpeded.
Have any more questions? Contact the Project Manager.
Documents
Stay Informed