Sub-Trunk #3 Sanitary Relief (#11669)
As part of a long-term effort to reduce basement backups and overcharged sewers, MSD Project Clear is replacing undersized wastewater sewer in Spanish Lake. The general area covered by this project is an area located north of Interstate 270 and west of Bellefontaine Road, in unincorporated St. Louis County, Missouri.
MSD Project Clear will increase the size of the sewer system in this neighborhood. This will increase the capacity the system can handle and reduce basement backups in this area. Also as a part of this project, one overflow will be eliminated.
The Contractor on this project is Unnerstall.
Project Map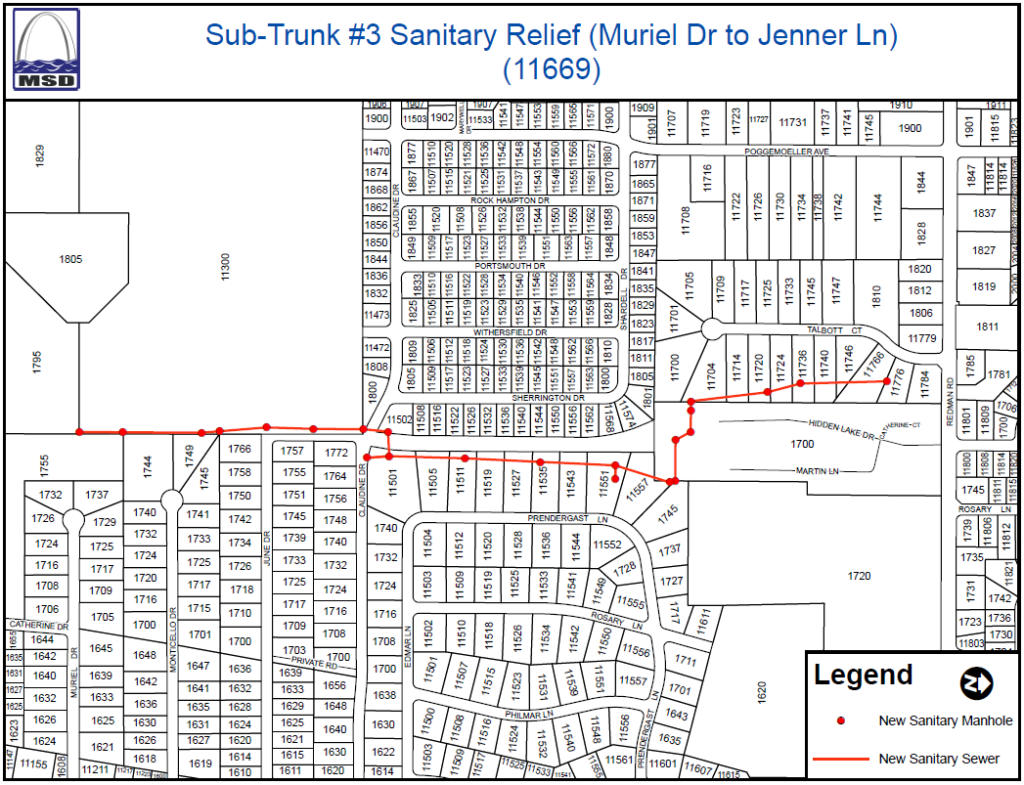 Construction Public Meeting Video
Why is this project being constructed?
MSD is investing over $1.5 million into this neighborhood with this project to alleviate basement backups and clean up our local waterways.
As part of our agreement with the Environmental Protection Agency (EPA) and the Missouri Coalition for the Environment, MSD is committed to removing points in our system where untreated wastewater can overflow into local waterways. These points are known as Sanitary Sewer Overflows, or SSOs. This project will allow MSD to remove one SSO, helping to ensure wastewater is cleaned by one of our seven treatment plants before returning to the environment.
In addition to creating cleaner creeks and streams, the new sewer will also reduce the likelihood of basement backups for residents and businesses in this neighborhood.
How will it be built?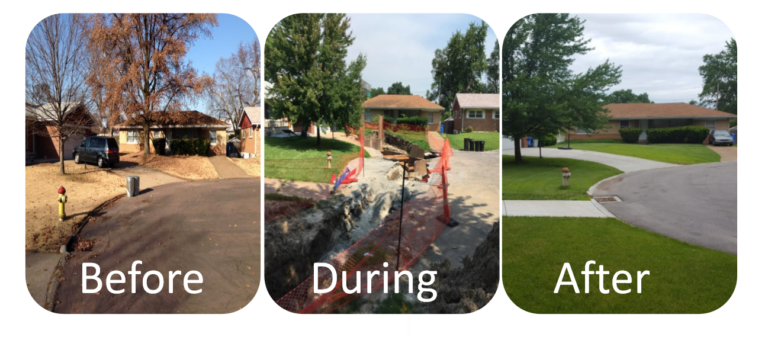 This project will be built by digging through the surface of the ground, in a process known as "open-cut" construction. Crews will excavate the ground first and then lay almost 4,200 feet of new, bigger wastewater sewer. The pictures above show an example of what open-cut construction look before, during, and after a sewer project.
How will this affect residents?
As with any major construction project, residents in this neighborhood can expect to see and hear heavy construction equipment. A large portion of this project will take place in yards. If you have questions on whether or how your property will be accessed, please contact the Project Manager.
Roads where open-cut construction will be used may be reduced to a single lane. Trenches installed in streets will be backfilled with rock. Normally trench backfill occurs soon after the pipe is installed so the traffic lane will be drivable shortly after the sewer is installed. Except for very narrow streets, one lane of traffic will be open except when the contractor is loading the excavated soil into trucks.
The contractor will follow all local ordinances and will notify all properties of any temporary access restrictions. In areas where open-cut construction will be used, there will be periods when driveways may be inaccessible. The contractor will give all property owners ample notification prior to any access restrictions. If you have specific concerns about access to your property, please contact the Contractor when construction gets closer to your property to make sure they are aware.
When will construction take place?
This is the current tentative project schedule. This is subject to change based on a variety of factors including weather.
Estimated construction start: Late 2021, Early 2022
Estimated construction completion: Late 2022, Early 2023
Previous milestones:
First Neighborhood Meeting: October 2019
Project design completion: November 2019
Easement acquisition completion: June 2021
What will it look like when it's done?
In general, District policy is to restore affected areas to the same or better conditions than before the project. Streets that are disturbed through this project will be replaced and repaved with similar material. The project's restoration will meet local requirements.
Areas of restoration of yards disturbed by construction not located in existing easements have already been negotiated with property owners. Most yard areas will be resodded with the same material. In wooded ground areas, District policy is to seed the disturbed areas. MSD will not replace plants, ornamentals, or other items in the construction easement or public right of way. Residents who wish to keep such items should move them before construction starts.
The Contractor will work diligently to restore disturbed surfaces to previous or better conditions. If you have questions about timing of restoration, please contact the Project Manager.
FAQs
FAQs section updated as questions are sent in to the Project Manager. To send your question in, please contact the Project Manager.