White Plains Sanitary Relief (12280)
As part of a long-term effort to reduce basement backups and sewer overflows, MSD[3] Project Clear[1] is designing a project to construct approximately 2,835 feet of wastewater pipe and 852 feet of natural channel stabilization in Chesterfield. The project is estimated to begin construction as early as the Spring of 2023.
About the Project
Public Meeting - May 12, 2022
Project Map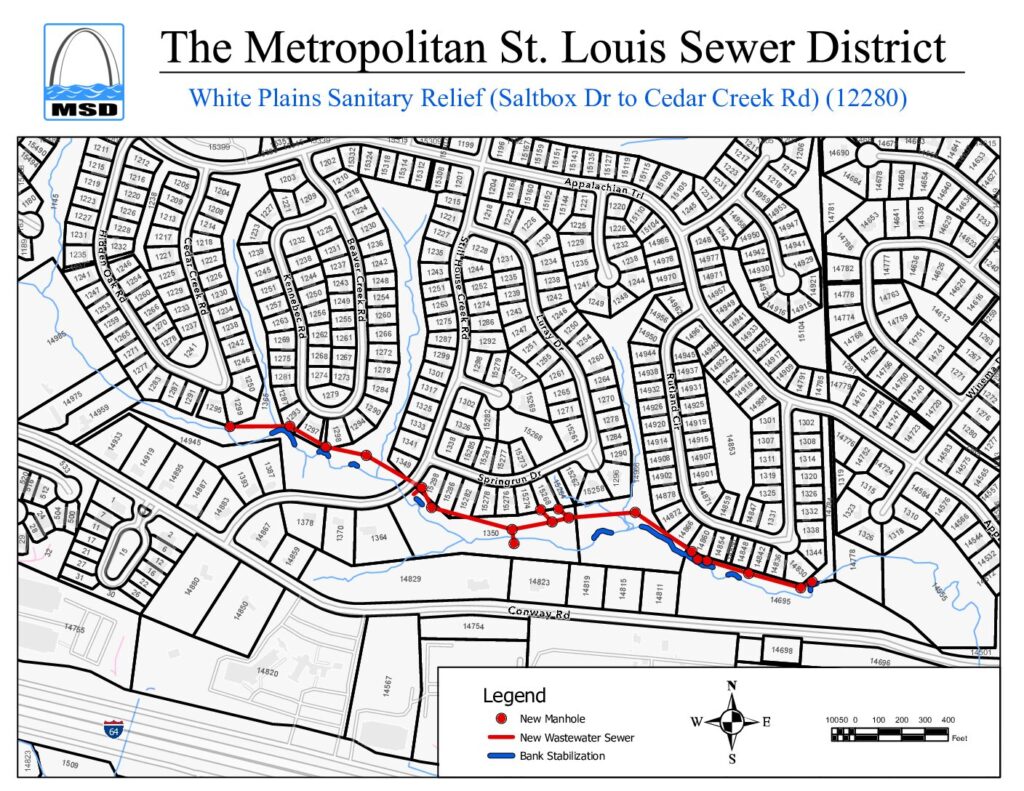 Why is this project being designed?
As part of their evaluation, our team of engineers determined that the sewer in this neighborhood is undersized. During intense rainfall, the sewers become overloaded, leading to basement backups and wastewater overflows into local waterways.
What is the goal of this project?
MSD Project Clear is investing approximately $1.5 million to design and construct this project to increase the size of the existing sewer. This will reduce the likelihood of basement backups during heavy rainfall and prevent untreated wastewater from spilling into local waterways.
Project Facts
Construction is estimated to begin as early as Spring 2023.
MSD Project Clear will replace approximately 2,835 feet of wastewater pipe.
The pipe size will increase to between 8 and 15-inches in diameter, allowing a larger amount of wastewater to flow through the system.
MSD Project Clear will also install approximately 852 feet of natural channel stabilization.
What can residents expect?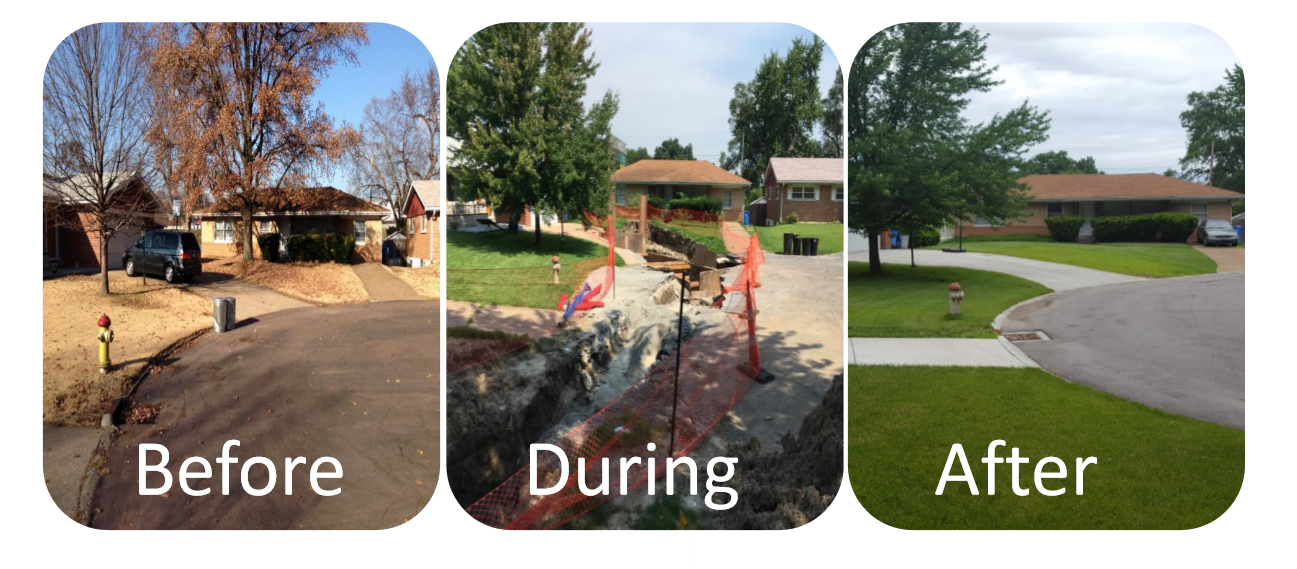 Though construction for this project is not estimated to begin until at least Spring of 2023, it is important to be prepared for what to expect. Since Fall of 2021, MSD has been contacting property owners from whom it needs to obtain new easements to construct the project. MSD will not contact property owners with existing easements.
At this time, MSD Project Clear anticipates the contractor will use two methods to construct the project. Most of the project will likely be constructed by digging through the surface of the ground in a process known as "open-cut" construction. In the segments crossing Still House Creek Road, the contractor will use tunneling to avoid major traffic implications.
Traffic and Access: Because much of the construction will take place in unpaved areas, MSD anticipates minimal traffic disruptions. Drivers may experience temporary lane closures as construction crosses roadways and will see increased construction traffic. Traffic control will be provided as needed.
The contractor will follow all local ordinances and will notify all properties of any temporary access restrictions. As the majority of construction will take place in backyards, MSD anticipates minimal property access restrictions. The contractor will give all property owners ample notification prior to any access restrictions.
With any type of construction, residents can expect to see and hear heavy equipment and significant volumes of truck traffic during the sewer excavation process. The pictures above depict what a neighborhood will look like before, during, and after a typical project.
After all new sewer pipes are installed, the contractor will restore the construction site according to all local and District[2] requirements. This could include sodding any disturbed areas, replacing disturbed pavement, reinstalling fences, etc.
At least one MSD Inspector will be on-site part of the day for every day the contractor is working.
What is the timeline?
This is the current tentative project schedule. This is subject to change based on a variety of factors including weather.
Complete Project Design: October 2021
Easement acquisition completion: Winter 2022
Estimated construction start: Spring 2023
Estimated project duration: Approximately 9-12 months
FAQs
FAQs section will be updated as questions are sent in to the Project Manager.
Documents
This section will be updated with additional documents as they become available.
Stay Informed
(Please mention the Project Number: 12280
Ema Stendback, MSD Project Manager
estendback@stlmsd.com
314-768-6270
Terms defenitions
1.
↑
Project Clear.
MSD Project Clear is a long-term initiative to improve water quality and alleviate many wastewater concerns in the St. Louis region.  It will invest billions of dollars over a generation in planning, designing, and building community rainscaping, system improvements, and through an ambitious program of maintenance and repair.
2.
↑
District.
Refers to The Metropolitan St. Louis Sewer District or MSD. The District is organized pursuant to Article VI, Section 30 of the Missouri State Constitution that empowers the people in the City of St. Louis and St. Louis County "to establish a metropolitan district for functional administration of services common to the area."